Our 30+ games have more than 125 000 000 downloads. Not only we create our own games, but we are also constantly looking for other projects to acquire. If your game is good, but need a hand with publishing and promotion just contact us.
...and more!
TINYSOFT is a game development studio founded in 2010 based in Brno, Czech Republic. We focus on every tiny detail in the game development to create an engaging and immersive experience for gamers. We believe that tiny details are the key to making great games.
Open positions
User acquisitions manager
Programmer Unity || C# || Java || Javascript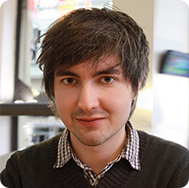 Michal Gabriel
(Co-founder, CEO)


Welcome Back Commander

e-mail: michal.gabriel@tinysoft.sk
skype: tinysoft
Martin Gabriel
(Co-founder, Chief Marketing Officer)


I've never let my school interfere with my education

e-mail: martin.gabriel@tinysoft.sk
skype: martin.gabriel.sfh
Andrej Brandersky
(CMO & Android Apps Acquisitions)


I am looking for android apps acquisitions. Feel free to write me!

e-mail: brandersky.tinysoft@gmail.com or andrej.brandersky@tinysoft.sk
skype: a.brandersky




Our team has more than 10 years experience in the mobile industry and is formed by 20+ skilled developers from around the world.